Christian Mystic Contemplative Mage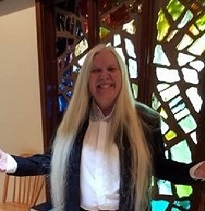 Perichoresis
Just an Ordinary Mystic: Journeys
Communion
Mystic Mage in other Realms

As a peregrine on a peregrination -
a deep pilgrim seeking
my own resurrection;
a steep diver beyond
my unfettered emanation,
I burst lastly from ashes
of this incarnation;
still unknown to the rigid
unknowledgeable mass;
still unsown in the alchemist's
apothecary glass;
still unhoned, though forged sacred
in Her Light, and cast -
I alone cannot let
this true Calling be passed.
...
When contact and surrender meet,
the Sacred One and I will greet
each one the other: heart to heart.
O Glorious Light of Luminous Dark!
...
Contemplation draws deep, calls deeper
not limited by beliefs or intents;
I surrender to the vastness of the Silence,
and realize Its own Sentience.
...
Bind my Angel to my Icon
Weave my Holy to my Dust;
Oneness starts from deep within me
in surrender, in deep trust.
...
That sweet annihilation
that draws you through the knothole in your mind,
beyond the sentient veil of your heart,
and into the luminous Darkness
where your soul floats in a coracle
in the Womb of the Mystery.
There are no words but the whisperings of fireflies.
...
In benediction or blasphemy
in sacred or profane theophany
in fearful or ecstatic mystery,
I find myself by letting go of me.
...
I interact with Sacred in every breath -
taste Its truth, touch Its fire, drink Its song;
I've no need for pre-requisites in the Depths:
I have ever and always belonged.
...
Mystery speaks:
"Breathe...
and Grace attends you;
Love wends its Way about you,
holding the shattered pieces,
healing the wounds unceasing,
without you doing anything -
just
breathe"
...
Now I've got to be a Player,
not a monastery Prayer -
not just wander mystic blueprints -
got to be the Who my Truth is;
Here within the Void's own river,
I am signed, sealed, and delivered;
got to mic drop on the Devil,
and evolve to this new level.
...
I draw my self into my Self
to deepen and transform
the hesitant mist upon the moor
into a thunderstorm.
...
When deep tiers of contemplation
bring me tears of revelation,
tis time for an exhalation
of a breath held since my birth;
all these fears that I surrender
lead me deeper to remember
the very mark that You had tendered
to remind me of my Worth.
...
My deep Faith is rendered
through trust and self-surrender:
not to reason-based Paths
not to Athame or Staff
nor to Chalice or Flame
nor Tradition or Name...
but only to One who calls my heart,
and traverses with me this Luminous Dark.
...
No one is less sacred, more sacred, unsacred.
No one. Not ever. At all.
All life is sacred and all of life matters -
How you answer is really your call.
...
Because the Mystery is in all things,
and that includes me -
and because I am in the Mystery...
omnipresent, panentheistic;
then no place is inaccessible
no time impenetrable
no thing impossible
no concept incomprehensible
no beingness unexperienceable...
except by my own limitations,
and the Wisdom of the Mystery.
...
Messenger and Message
Particle and Wave
Sacred Word and Process
Pilgrimage and Cave.
...
not just cognitive, reasonable, logical mysticism,
but heart-led heart-followed heart-perceived mystical experiences...
the less such experiences lead to a mind-cognitive discussion and understanding,
the deeper and more authentic they are...
if i seem incomprehensible to you, i'm doing it right;
the Sacred Mystery has always revealed Itself
in metaphoric relationship to each sojourner as It chooses...
and, unrelenting, the Mystery continues to lead me
down the narrow road between magic and madness...
...
I must find and discern the Balance
of surrender and engage;
I must awake and drink from the Chalice
of trust and the sacred Way;
I must pray and allow the Indwelling
of Mystery, into my heart;
I must walk and evolve up the Trellis
of the flowering luminous Dark.
...
Not of my own, can I surrender
Not of my own, engage
Not of my own, read the Words of the Book
Not of my own, turn the Page...
...
Let the Bread die on your tongue,
and the Wine deep resurrect it...
Holy Fire in transformation -
all the Sacred intersected;
Tingling flames of Mystery's Presence
touch the heart of your own Truth -
Come, surrender to the Calling -
this Indwelling breathes of you.
...
It can no longer matter to me
that I cannot be a Christian mystic on your terms;
I must be one true to the Mystery on the Mystery's terms.
I have made my choice; I think I always have...
I just didn't know it...
I cannot be contained by any dogma, tradition, book, or human authority...
I am beholden only to the Mystery...
if this makes you uncomfortable, inconvenienced, disquieted, or disturbed,
know only that it does not make me feel like that...
rather, I am grateful, inspired, blessed, and alive...really alive..
...
here,
where the Stillness deepens as the sun rises,
the inhaling of hope for the morning,
the exhaling of the darkness passing,
the subtle infusion of sentient light
awakening my heart to the wonder unfurled in such majesty -
i fling open the windows of my soul and invite the Sacred's indwelling.
yes!
...
In this world of dualities,
when i stand in sunlight or any light,
i cast a shadow...
the shadow is not me, not of me,
not seemingly sentient in terms of my understanding.
In the same way, my soul
in its home in the Mystery
casts me as its shadow,
in this place of Earth...
and i am to it in similarity
to the shadow i cast as human.
i am cast by my soul, but i am not my soul -
only its expression in this dimension,
as a silhouette of the Mystery's Eternal Light...
when i walk in sunlight and cast my shadow,
does it have its own songs,
its own dance, its own sentience?
it is a balance of the whole of me,
and i have no understanding of it at all...
an odd quest for this evening...
i wonder what it does when evening falls
and it is freed in the darkness?
...
for me, it's not measuring what my life has been since birth,
nor is it measuring steps until my death -
my life has nothing to do with measurement
and everything to do with choosing in the moment, to breathe,
to experience, to laugh or cry, or hide under blankets,
or have coffee and conversation,
or beer and conversation,
or beer and darts and karaoke and conversation,
or do a shamanic ritual or a healing prayer,
or create something cool by knitting, drawing, writing,
sculpting, building, distilling, singing or magicking;
it's being in the moment and owning it all,
allowing and discerning that Presence of the Sacred
flowing symbiotically through me,
it's freedom to be and move and live
and express kindness so many times,
for so many people, in so many ways;
it's alive, active, engaging, exploring, experiencing, evolving, enjoying...
this one singularity of breath
in the omnipresent, panentheistic Breath of All.
...
The Mystery, unplugged, tonight:
You move me
You breathe me
You are incarnate within me;
I asked for Your deepness
and You deeply replied...
I matter
I am worthy
I am loved without limits;
You let me feel Your Presence,
and I could only cry.
...
i sit in patience with the things i know
i sit in patience with the things i do not know
i let all things - known and unknown -
steep inside me like the best morning tea
breathe through me like a breeze off the ocean
filter through me like sunbeams in a forest
whisper among my heartbeats like meadow birds
dance in tiny steps across my pulse...
so i can learn the Teaching of renewal, rebirth,
so i can deepen and quicken from core to edge
my unlimited, immortal, significantly insignificant self
among the fractal constellations of Life's patterns
come alive in my Presence, on my Island Home, Earth.
...