Yeshua: Lenten Experiences and Beyond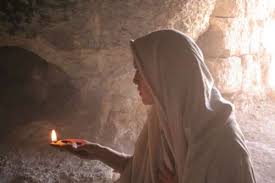 I said to Yeshua, today, "I will walk with You - I will walk your death-line with You, as the Ferryman said I could - so You will not be alone." and He replied, "I'm not alone, as you well know." and I answered, "Well, the Human part of You is, and the Human part - I'm guessing - would not mind companionship in this Walk... you know, someone in the "skin", with You." He pondered for a few, and then responded, "Ok...but you will not engage in what experiences come to me. Promise me only to witness." and I promised... sadly... but promised
...
So, both the Ferryman and Yeshua said I could walk along His death-line, as long as I remained a Witness. At a certain point, the Ferryman pulled the Raft over to a rocky bank, for me to get off. And I said, "But we have not finished the line!"... and he replied, "Do you see what lays just up ahead?" and I said,"It looks like a solid rainbow Veil or something." "Yes. You cannot go through there. So, you must get off here." "But, He said I could follow..." "Up to a point. This is the point. You can't go through the Veil." "Can't?" "Well, ought not." "What's that mean?" "It means, Lady, that if you stubborn your way through, you will find non-negotiable death instead of resurrected death..." "Oh..." Now I'm not at all sure what that meant, but I chose to get off the ferry and onto the path that followed the Veil on this side until I could find a sanctioned way back to His Path and my Journey... I gave the Ferryman his due and continued on my way as the full moon lit the trail ahead of me. It will be a long night. For both of us. But I will rest to pray, as I know He is doing... He allows me to sense His Presence - wherever it is. Still... I wish I could be praying with Him tonight...though I suppose He knows a way for that to happen. (3-24-2016 Maundy Thursday night of Passover meal and Garden prayer)
...
As I was walking the path, following beside the Veil surrounding Jesus' way, I watched as the land beneath my feet began to turn to sand, and the vegetation become more sparse and desert-like. Though the full moon lit most of the path, the sand was fading indiscriminately into no specific markings, neither offering directions or comfort. Confused, by running on my intuition alone, I asked for a guide, and suddenly felt the breath and brush of a big muzzle behind my neck. I turned to see a camel. In mystic terms, this is a very good omen. For me, I was very glad of a guide, and one familiar with the landscape unfolding before me. We walked for quite a while, and I shared that I was looking for a sanctioned passage through the Veil. She replied, "That shall not happen until the Veil passes next to the Cross they set up on the hill. Then you can witness, as He promised." "Then, I'll be able to pass through?" "Yes, but only upon His passing on." "No! I must touch Him before He leaves!" "Well, I'm just telling you how this Veil works; how you and He work, I have no knowing of....I suppose, anything's possible." The Veil did wend its way close to the Garden, and I echoed His prayer time, putting Him at the top of my prayer list.
...
As morning sunlight gilded the skies, almost too beautiful for what was to transpire, I realized the transparent nature of the Veil, and could see Jerusalem below me, just beginning to stir from her long, betrayed-filled night. I saw that the camel and I were on a hilltop, and I asked her about it. "This is the hill," she replied, "This is Golgotha." I wept to even consider it. "Just witness," she said. "Just witness. Do not try to traverse the Veil." As I watched the procession, through tear-blinded eyes and heart, I witnessed Him being set up on the Cross and into the Earthmother's chalice, holding Him in Her own heart. I saw Him dying, and I sought the closest bit of the Veil next to Him. There! By His feet. Just the slimmest of overlap, and I fell to my knees, touching His feet, washing them with my tears. (3-25-2016 Good Friday)
...
As I touched His feet, He spoke to me, saying: "Take the child - you, as that child - take her off his altar. She is not his. She is Mine...as you are Mine. Hold her close, protectlively, and draw your invisibility over you both; invoke your shape-shifting to deny him sight and intuition. I will take care of the rest. And he lay on the altar, where eyes only saw a child, and allowed my grandfather to stab Him in His abdomen (near like where the sword eventually went). And when the knife appeared to penetrate, a great Light burst upon the crowd and upon my grandfather, and they were sore afraid, although my grandfather was equal parts pissed and afraid. He attempted to re-gain control of the crowd with the Tempter's words, "See. I have sent the child into glory...as God sent His son." But, you know, Jesus wasn't buying any of that. And so, He then revealed Himself in His truth, and the terrified crowd disbursed, and my grandfather started yelling some 'demon go home' verses, but all for naught. He was never quite the same again. My father came and got me from behind the altar as I let down the camouflage and allowed my child self to continue her path, but not before He whispered to her, "Jesus loves you. Jesus loves you. I will come back for you. I love you." and He vanished.
...
This morning, in the deepest Core of my Heart where lives my Beloved and me, I arose first and started coffee. I know He had had a bad night of it. I replenished the fire, and we sat around it, in silence and stillness, for the longest time. He whispered, "That was the hardest thing ever - going through that dying part, having faith and yet, you know, being Human seems to brings doubts in shadows that nibble like piranhas in the brain." "I believe you. I am glad You are here, though, too." He replied, "Well, that is the good thing about quantumness and unitive beingness, isn't it?" "I think this is a good day to rest for a while here. I want to sit at the rock of Your tomb, and contemplate and travel with You in your Journey to resurrection." "It won't be like You expect." "You have never been what I expect. That's what I kind of like about You." He tooked my hand and kissed my fingers, like a Knight of old. Tingled all the way through me... (3-24/25-2016)
...
The sacred quantumness of bi-location manifested for me. It's Good Friday service and it is time to "come to the cross"... and I don't know how well I can even stand - for the tears and heartbreak - nevermind walk... and suddenly, He is at my side, escorting me... and I am struck by His gentle smile and quite serious deep brown eyes... I take His arm, hugging it tightly... and we walk to His cross. (3-25-2016)
...
Before I had gotten back to the Ferryman, my contemplation had taken me to HH Dalai Lama at His Ashram, and as I gazed, impossibly, from the Himalayans on one side to the Tahiti shoreline on the other side, I asked for advice concerning my Good Friday path. He looked at me, gently smiling, and said, "I'm not the one you should be asking, am I?" and I was returned to the Ferry.
...
Back in the writing, where Yeshua is speaking of connecting to my child self on the altar, I asked Him, how, in the intricate weave of the pattern of interconnectivity, with Him, apparently, having no direct line to me at that time, how could He make it so? and He showed me, thusly: it was like He took a darning needle or hooked needle of some sort, and he picked the time-space spot of the altar incident, and then, using the sacred mystery's thread, pulled that nexus over next to where He and I were in the time-place of the Jerusalem cruxifixion, and created a bridge - knotted (with knots) one line into the other, seamlessly... i have no idea how to make this comprehensible... but i watched Him do it...or rather, watched Him do something that my mind interpreted in such a fashion that i could understand the gist of... amazing.
...
I sat outside His tomb today... off to the side, so as to be out of sight of the bored Roman guards who stood before the Stone door... well, standing some of the time, napping, casting lots, if they had had twitter or snapchat or facebook i'm sure they would have been using them. I brought myself into Stillness, and tossed a sphere a protection around me - as much for them as for those of my own who would trespass. As I focused into my sacred Core, I found myself sitting beside Him - there as well as in the Tomb. He asked if I were ready, and I replied, "as ready as I can be for the unexpected"... He gave me an oxygen mask (or something quantum similar - i do not know) saying, "I am already not in this physical place; you, however, very much are. This will help you go where I go. And I thought to myself, "Whither thou goest...". Then, there was a sense of movement, as if descending but not, as if darkening but not, but similar... it is incomprehensible to describe. I knew we were going to Hell, however that is represented in Truth. I know the Mystery would have me see and experience this in terms I could at least relate to in some way. At first, it was like sinking into the earth - with roots and underground animals and suchlike; and then, it began warming up, as if nearing the magma heading to the Core... the mask was working well, but i was definitely feeling uncomfortable with the heat and pressure. Suddenly, I was encased in a sheath of protective energy, and I recognized a re-gifting of the shield sheath I had wrapped an ally in to protect her in a fierce battle. I thanked her. And we continued for a much long time, until suddenly we were in a hollow earth place - far beyond the parameters of a cavern - even Mammoth Caves was like a shallow lean-to compared to this. I knew where we must be, but I saw no flames. It was fiercely hot, but no fire. And then I realized, it was a cold fire. The stone walls, floor, ceiling (I'm guessing at 'celing' - I couldn't see it) were hot enough to instantaneously vaporize any who touched it who were not of this realm. Fortunately, Yeshua had kept me invisible to other eyes. I turned with Him to see this huge - extremely high and huge - throne made out of the self-same hot rock. And there on the throne sat Lucifer. "Ah, well, look who's here! Knew you'd come, boy." "I came to give you an option." "Option? You came to give me an option? You are the one without an option." "You only have the Power given to you." "And quite more than you expect." "I came to give you an option." I was amazed at how calm and cool He sounded, surrounded by such tormented death, ashy empty souls, ice-lightning fire, and him, who was still loved. "So, with the millions of minions with which I surround myself, and you, and your companion, what option could you possibly offer me?" I was stunned that he could see me. In my mind, Yeshua explained it was my energy that he discerned, being different from His... it was a guess, a bluff. Still, that frightened the bejeezus out of me. But I made no move, no breath, no thought. Listen. Watch. Witness. Yeshua answered him, "Your option is Love." Lucifer screamed, "Love! You fucking betrayer! Now, it is You who would betray me with a kiss! You are such a pathetic rep for the Father... I could have done better... well, not in that kind of mission. I certainly could teach humans a better lesson... presumptuous worms, all of them!" Unphazed, He replied, "Love is your option." Lucifer spoke slowly, deeply, intensely, "Fuck you".... as he signaled his minions to attack us. Suddenly, Yeshua, exploded like a nova of Love light, filling the chamber with such brilliance that I felt my closed eyes burned by it, but for the mask and sheath surrounding me. The minions fell like trees before the force of a pyroclastic volcanic explosion. And just as quickly, He and I were moving out and away from there, back to the Tomb. He turned to me, "You ok?" "Yeah, shooken not stirred" "I have to leave you here, so I can continue on. It is not your time yet to go farther. I will return, though, you will see... if you look with your heart." And then I found myself outside back in my rocky niche where I had sat in Contemplative Journey with Him. I stayed there for a long time, getting grounded, getting my bearings, getting back to good. I will never ever forget that experience. Ever. Definitely an o.m.g., in Truth.
...
I did not think it would affect me so much, so deep... after the long processing, i experienced an immersion baptism-like death and rebirth event that kept me tight in the Mystery's grasp for quite a while. i had not thought i would be so affected. i was wrong. i am More.
...
before the aftermath, before the event following the journey, i was all over the place and not in peace. i went to the ashram of HH Dalai Lama, and we sat opposite a candle, and he helped me find the issue of turbulence in me, and helped me sift it out and bring it to peace, which brought me to peace... it was a while after that, that the immersion event occurred. powerful.
...
tonight at vigil service, i was sad. very sad. Yeshua was not Present in our sacred Chamber - no where around the fire or walking through the meadow or anything. i could not feel His Presence anywhere, and i was very sad and grieving. i know He returns tomorrow at sunrise. i know that Sophia has told me He is resting, recovering, transforming, and stuff. but, still, i miss Him a lot, and i don't want to be alone or lonely this night. but it is as it is...i will weep; and then He will return as He promised.
...
the Stone is rolled away:
that Portal 'tween Life and Death
that Darkness 'tween Heaven and Earth
that Gate 'tween Shadow and Breath;
the Stone is rolled away:
the Song is fresh infused
the Taste now tingles on the tongue
my Heart is born anew;
the Stone is rolled away:
and He's no longer covered -
He's resurrected past His death...
ah! return to me, Beloved!
the Stone is rolled away:
a Bridge to Mystery's Spirit -
May all who understand this Gift
have the Eyes and Ears to hear it.
(3-27-2016)
...
"Whither I go, you go. Now, isn't that what you said?"
His glowing-light Self stands over me, as I tumble out of bed.
"So, here's some coffee; please listen, this is all quite new to acquire.
It's hot; take care, and -wait - don't touch me, I'm alight with the Holy Fire."
I look Him over intensely, sipping from an Angel cup.
"It's something I picked up along the way; I hope it's good enough.
So, listen, remember the bridge I wove to reconcile your child -
well, I used the same creativity, as I passed through the Spirit's Wild.
So, now the Path is open, Here, for such ones who seek Truth -
for those surrendered and trusting past death; someone quite like you.
It cannot be known, or seen, or found; you cannot just follow a dove.
Your heart must be - inherently - unconditionally full of Love."
"And I will help you on this Way, for now I've walked it first.
And you have so prepared yourself, choosing to be immersed.
So, let us sing and dance today, out here in our Sacred Domain -
the World has changed and so have we - and nothing will e'er be the same."
...
The Holy Spirit: "Ruach" come to Yeshua on the cross
...
In a sweetness of sacredness,
She came to His side,
where He hung scarcely breathing -
His heart crucified;
the Midwife of the Mystery
gently took His last breath,
and held His dear Spirit
as He crumbled in death;
soothing with lullabys,
She raised Him to His truth
but He whispered (God alone knows)
that He'd something left to do;
so She set Him in the Tomb
and reminded Him that He
had little time to offer Love
to the Lord of Hell's decree;
She waited in the tiny room,
breathing softly with the earth,
til He came to Her, surrendering
to the resurrection of His birth.
...
The wooden door was slightly ajar, and a bright warm welcoming light filled the opening. Having been Called here, I carefully and cautiously moved the door inward to reveal the room behind it. A happy fire in its place against the far wall ...a small wooden table with two chairs ... some shelves against another wall with handmade items... and in one of the chairs at the table, Yeshua sat - a quiet smile on His face. He watched as I worked my way into the room, ever wary of where the door was in relation to me... yes, even with Him... the trauma-fear seldom leaves me, but I knew He didn't mind. He offered tea, and poured boiling water into the two cups. He added shredded tea leaves from His hands, and let them slowly move through the cup. From somewhere, He produced a small chilled container of goat's milk and a jar of honey. He laid a spoon and napkin by each tea cup. I sat down. I picked up the tea to taste it first, before adding anything, when I remembered the ceremony of it. I stopped and then began the sacred turning and prayer. I looked up at Him and He was smiling. He echoed the ceremony back to me... then added honey.
He asked, "How goes your Journey?"
I said, "I'm pursuing the Path as best I can."
"Don't pursue. Let it go."
"What? But I've been Called to it. You called me to it."
"Not to own or possess it. Not to cling to it. Not as if you were nothing without it."
"Oh."
"Let it go. It unfolds on its own terms as you make choices. It isn't already there."
"I don't understand."
He smiled again. "You don't have to. You only have to trust. That's your true Journey, right?"
"Well, yeah..."
"Trust me. Come on. It's going to be awesome."
And then He was quiet, as I pondered deeply, and sipped my tea.
...